Go Hunting!--- Super high-res HAMEDORI (gonzo) movies.
You can enjoy it with WINDOWS MEDIA PLAYER as well as the New Original Movies.
Other viewer soft ware is unnecessary.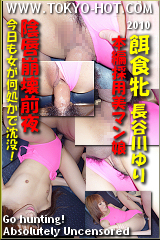 Yuri Hasegawa
45min. 1.19GB
Price revision / 09-09-2010
640x480 pixel
Bitrate 3.3Mbps
Download the free latest "Windows Media Player".
Please confirm with sample before you purchase token that you can surely play clearly.
When you cannot understand how to view a sample, click 'How to view sample'.
If you have any problem or question, please click "FAQ".