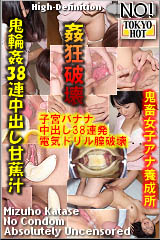 "Lewd Announcer"
Mizuho Katase
No condom
Absolutely Uncensored
- 115 min. - Bitrate 4000KBPS - File size 3.31 GB - 1280x720 pixel
Mizuho Katase who has got beautiful black hair and boobs has cum inserted to her vaginal by dirty guys total 38 times. She has just few experience of fuck with guys but her pussy is so sensitive. She is a kind of parson who serious appearance to tackle hard in everything and docile personality. So that why she guys doesnft matter fuck with her. Guys push banana into her vaginal and give vibration to her pussy by electric drill. Her mind has broken down. She has covered by guys semen and they were discarded her. Mizuho is an aspiring female announcer. She get a special lesson at announcer training school. Teacher has taking her panty off and push rotor into her vaginal while she voice training. But she cannot to do voice exercises also cannot keep standing any more. Then teacher give a another lesson to open her legs and give a vibration to her clitoris by electric massage machine. She has excited with get wet on her face. She cannot read script and she has cum. Then he give a finger fuck to her pussy and she has cum again. Her vaginal has getting wet and her clitoris has erection. That is looks so odious. Then she give a blow job to his cock on the couch. She has forget that is lesson of announcer. Then he inserted his cock to her vaginal by standing back side position. He hold up her one leg and giving hard stroking. She has cum again. He taking her as cow girl position and back side position with hard stroking. Then he has cum inserted to her vaginal by missionary posture. Then she clean up his dirty cock by her blow job. After that she taking next lesson. Next lesson is shaking hands with her fun. All guys as naked and elected cock. Mizuho not shaking with hand, she shaking guys cock. Then she giving hand job to them cock. Then she open her legs and entice men. Guys inserted cock to her vaginal and cum inserted also as after another. Then they said that next lesson is smooth tongue. They push cock into her mouth and cum shot to mouth 2 times. She spit semen in the palm. And started next pussy training. She open her legs and guys push electric drill into her vaginal. Guys giving a hard vibration to her vaginal by electric drill and they push banana and Cusco into her vaginal. But cannot see inside of her clearly. That is humiliation Play for her. After that she give a hand job to 5 guys cock and blow job as well. She taking a deep throat to them. Then guys inserted his cock to her vaginal by missionary posture and she has cum again. Then he has cum inserted to her vaginal. After that another 2 more guys inserted his cock to her vaginal by cow girl position and cum insert as well. Then next guys cum inserted to her vaginal by missionary posture. Another more 3 guys cum inserted to her vagina by missionary posture. Might be she going to be pregnant. But still not finish yet. Guys keep holding her hands and legs and taking open leg pose for cum insert to her vaginal as after another. Total she has had cum insert 24 times. Then guys giving vibration to her pussy by electric massage machine and through semen into her vaginal. Then guys left her on the floor. Trainee of female announcer has change to be meat urinal. After that she pass the exam of Tokyo-Hot TV. She fuck with guys at TV company day after day. Her blow job is so nice and her pussy also good working. Her junior also growing up to be a nice meat urinal as well.
This is the High-Definition content.(4000kbps / 1280x720 pixel)
Before you purchase this movie, please confirm with sample that you can surely play clearly.
Download the free latest "Windows Media Player".
Please confirm with sample before you purchase token that you can surely play clearly.
When you cannot understand how to view a sample, click 'How to view sample'.
If you have any problem or question, please click "FAQ".