Original Slide Pics for Windows Media player--- An original high quality slide pics collection.
You can enjoy it with WINDOWS MEDIA PLAYER 9 as well as the movie contents.
Other viewer soft ware is unnecessary.
Enjoy Sequence Slide Show by using Forward/Rewind function of Windows Media Player 9.
Maximum Pic Size 1500x1000, 667x1000 pixl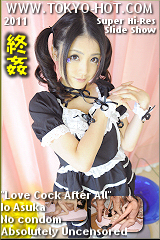 Io Asuka Part1,2
613+721 pages
Price revision / 11-13-2011
1500x1000 pixel
File Size 212MB+339MB
Free Sample Image 1 2
Download this file to your PC
** License fee for unlimited play **
Until Price revision -- 0 token (Free!)
After Price revision -- Each File - 2 tokens
Part 1 Part 2
Return to the list
Download the free latest "Windows Media Player".
Please confirm with sample before you purchase token that you can surely play clearly.
When you cannot understand how to view a sample, click 'How to view sample'.
If you have any problem or question, please click "FAQ".